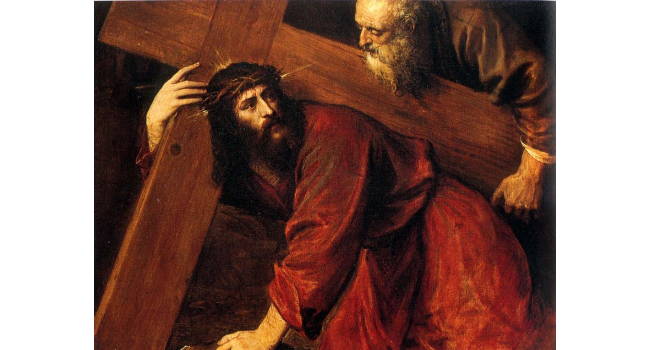 By Francis Fernandez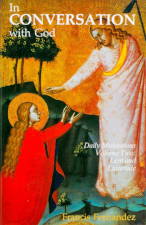 ---
Jesus with the Cross on his shoulders passes through the streets of Jerusalem. Simon of Cyrene.
After a night of suffering, of insults and scorn, torn by the terrible torment of the scourging, Jesus is led out to be crucified. Then he [Pilate] released for them Barabbas, and having scourged Jesus, delivered him to be crucified, [1501] says St Matthew's Gospel quite simply.
The people do not accept an exchange for Barabbas, an exchange of one who was innocent for one guilty of robbery and murder. Jesus is condemned to suffer a painful punishment followed by a savagely cruel death reserved for criminals. Very soon everyone can see that he is already far too seriously weakened to be able to carry the cross on his shoulders right up to Calvary. A man returning home, Simon of Cyrene, is forced to help. Where are the disciples? Jesus had spoken to them about carrying the cross; [1502] and they had confirmed with great vehemence that they would go with Him even to death. [1503] Now not even one of them is to be found to help him carry the piece of timber to the site of the execution. A stranger has to do it, and that under threat of force. There are no friendly faces around Our Lord, not even one willing to commit himself, to say a word in his favour, let alone champion him. Even those who were cured or who had received some benefit from him now do not wish to be conspicuous. What Isaiah had prophesied several centuries earlier is now fulfilled to the letter: I have trodden the wine press alone, and from the peoples no one was with me ... I looked, but there was no one to help. I was appalled, but there was no one to uphold. [1504]
Simon gets hold of one end of the cross and lifts it onto his shoulders. The other end, more weighty, the one where there has been no response to love, the one freighted with the sins of each man – this end is carried by Christ, on his own.
There is one exception to the desertion which the Lord experiences. Tradition has handed the incident down to us. A woman by the name of Veronica steps forward with a piece of cloth to wipe the face of Jesus. And on the fabric there remains an impression of the face of the Lord. Veronica's veil is a symbol of the moving dialogue between Christ and the penitent soul. Veronica responded to Christ's love with reparation; a reparation especially admirable because it came from a helpless woman who did not fear the ire of the enemies of Christ ... Will the image of Christ's face be imprinted on my soul as on the veil of Veronica? [1505]
Our Lord continues on his way. There has been some physical respite. But the path is tortuous and the ground uneven. His energy is dwindling; it is not at all to be wondered at that Jesus falls. Once, twice, three times – He falls and with increasing difficulty gets to his feet again. A few yards on and he stumbles again. Rising up he tells us how much he loves us; falling, he expresses the great need he has for us to love him. It is not too late; nor is everything lost ... even though to you it may seem so – even though a thousand doom-laden voices keep saying so. Even though you are besieged by the furious faces of mocking and jeering onlookers. You have come at a good time to take up the Cross: the Redemption is taking place now! And Jesus needs many more Simons like the man from Cyrene. [1506]
Jesus accompanied by two thieves on his route to Calvary. Ways of carrying the cross.
A little later on this journey to Calvary, Jesus passes by a group of tearful women, who are weeping for Him. He consoles them. Here is the call to repentance, true repentance, genuine sorrow in the truth of the evil that has been committed. Jesus says to the daughters of Jerusalem, who weep at the sight of him: 'Do not weep for me, but weep for yourselves and for your children' (Luke 23:28). One cannot merely scrape away at the surface of evil; one has to get down to its roots, its causes, the inner truth of conscience ... Lord, let me know how to live and walk in the truth! [1507]
Forming part of the procession, their presence making his impending death yet more shameful, are two convicted criminals, described as two thieves. A recently-arrived spectator to the scene would see three men, each laden with a cross, walking towards death. But only one is the Saviour of the world. Only one of the crosses is the redeeming Cross.
Today, too, the cross can be carried in different ways. There is the cross carried furiously or sullenly, in a rage; man writhes and squirms, filled with hate, or at least, with a deep and burning resentment. It is a cross without meaning and without any explanation, useless; such a cross may even separate one from God. It is the cross of those in this world who seek comfort and material well-being, who will put up with neither suffering nor setbacks, for they have no wish to understand the supernatural meaning of pain. It is a cross which does not redeem. It is the cross carried by one of the thieves.
On the road to Calvary is a second cross, carried this time with resignation, perhaps even with some dignity, with an acceptance of the situation simply because there is no alternative to it. This is the one carried by the other thief. Little by little he realises that close by him is the sovereign figure of Christ, who will radically change the final moments of his life on earth, and for eternity; he will be the one converted into the good thief.
There is a third way of carrying the cross. Jesus embraces the saving wood and teaches us how we ought to carry our own cross: with love, co-redeeming all souls with him, making reparation at the same time for our own sins. Our Lord has conferred on human suffering a deep meaning. Being able, as he was, to redeem us in a multitude of ways, he chose to do so through suffering, for greater love has no man than this, that a man lay down his life for his friends. [1508]
Saintly people have discovered that sorrow, suffering and contradictions cease to be merely negative as soon as the cross is not seen to be on its own, but with Jesus who is passing by and coming to meet us. My God! May I hate sin, and unite myself to you, taking the Holy Cross into my arms, so that I in my turn may fulfil your most lovable Will ... stripped of all earthly attachment, with no other glory but your glory ... generously, not keeping anything back, offering myself with you in a perfect holocaust. [1509]
Simon of Cyrene got to know Jesus through the Cross. Our Lord would reward him for his help by also giving the faith to his two sons, Alexander and Rufus. [1510] Soon they would be among the outstanding Christians of the early years. We instinctively, as well as with reason, feel that Simon of Cyrene would later be a faithful disciple, held in esteem by the first Christian community in Jerusalem. And it all started with the Cross.
I went to those who were not looking for me; I was found by those who sought me not (Is 65:1).
At times the Cross appears without our looking for it: it is Christ who is seeking us out. And if by chance, before this unexpected Cross which, perhaps, is therefore more difficult to understand, your heart were to show repugnance ... don't give it consolations. And filled with a noble compassion, when it asks for them, say to it slowly, as one speaking in confidence: Heart: heart on the Cross! Heart on the Cross! [1511]
Today's meditation provides us with an opportunity to ask ourselves how we have borne difficulties and sorrows. It is an occasion, too, to examine the question whether these have brought us closer to Christ, if we are co-redeeming with him, if we are making use of these contradictions to atone for our faults.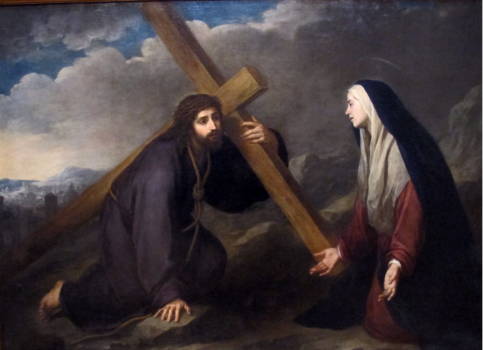 Meeting his Mother.
The Saviour walked, his body bowed down under the weight of the Cross, his eyes swollen and almost blinded by blood and sweat and tears; each step made painfully slow and difficult by his failing strength. His knees buckled as he virtually dragged himself along behind his two companions in punishment. The Jews laughed; the executioners and the soldiers pushed them forward. [1512] In the Fourth Sorrowful Mystery of the Rosary we contemplate Jesus carrying his cross on the Via Dolorosa. We are sad, living the Passion of Our Lord Jesus. See how lovingly He embraces the Cross. Learn from him. Jesus carries the Cross for you: you ... carry it for him.
But don't drag the Cross ... Carry it squarely on your shoulder, because your Cross, if you carry it like that, will not just be any cross ... It will be the Holy Cross ...
And surely you will find Mary on the way, as Jesus did. [1513]
In The Way of the Cross, we meditate on the meeting of Jesus with his mother in one of the narrow thoroughfares through which the cruel procession passed. He stopped for a moment. With immense love Mary looks at Jesus, and Jesus at his Mother. Their eyes meet, and each heart pours into the other its own deep sorrow. Mary's soul is steeped in bitter grief, the grief of Jesus Christ.
O all you that pass by the way, look and see, was there ever a sorrow to compare with my sorrow? (Lam 1:12).
But no one notices, no one pays any attention: only Jesus ...
In the dark loneliness of the Passion, Our Lady offers her Son a comforting balm of tenderness, of union, of faithfulness; a 'yes' to the divine will. [1514]
The Lord continues on his way, and Mary accompanies him a few yards behind, right up to Calvary. Simeon's prophecy is being fulfilled to the letter. What man would not weep seeing the Mother of Christ in such cruel torment?
Her Son so stricken ... and we, cowards, keep our distance, not wanting to accept the Will of God.
My Mother and Lady, teach me how to pronounce a Yes, which, like yours, will identify with the cry Jesus made before his Father: non mea voluntas ... (Luke 22:42): not my will but God's be done. [1515]
When we suffer pain or affliction, when these are all the more piercingly severe, we turn to Our Lady, to the Mater dolorosa, to implore her to strengthen us, and so that we may learn to sanctify them with peace and serenity.
---
---
Francis Fernandez Carvajal was born in Granada in 1938. A graduate in History from the University of Navarre, he also hold a doctorate in Canon Law from the Angelicum in Rome. He is a priest of the Opus Dei Prelature. Since his ordination in 1964, much of his pastoral ministry has been with university students. For more than ten years he was editor of he montly magazine PALABRA. Among his published works are   Lukewarmness- the Devil in Disguise, Overcoming Lukewarmness,Through wind and Waves, and Commentaries on the Gospels of St Matthew and St Luke
His Series In Conversation with God can Be found Here