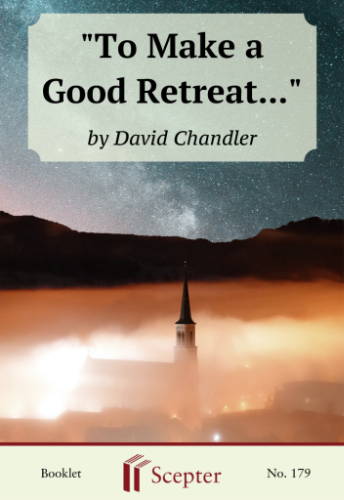 "To Make a Good Retreat..."
You need to make a good retreat.From time to time in life, everyone does.The fact is, though, that few people really understand why until they have made one. The experience of a few days spent deeply in the presence of God, praying and reflecting on our life's direction, gives an incomparable richness to our vision of things. A well-made retreat brings peace, vitality, and a youthful confidence: a singular regaining of the happiness we knew as children, and a taste of the joyful sense of adventure that all the saints have experienced.Who doesn't need this?Perhaps you sense this need in yourself already. And this is why you've begun to read these pages. You have decided to make a retreat, and you want to make it well. Or, on the other hand, perhaps you haven't yet made such a decision. Someone who's close to you—a spouse, a friend, a spiritual director—has suggested that you really ought to make a retreat, or positively need to make one, and you'd like to think the matter over.
This Booklet Contains
God's Purpose for You

Reading and Reflection

New Life as a Child of God
"To Make a Good Retreat..."
179
---
We Also Recommend