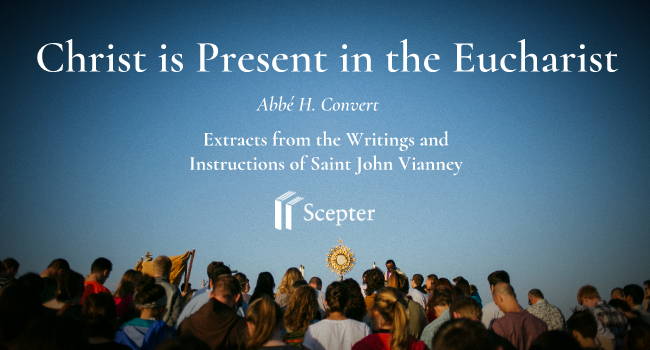 ---
AT THE MOMENT when the mother of St. Alexis recognized her son in the lifeless body of the beggar who had lived for thirty years under her palace stairway, she cried out: 'O my son! That I should have known you so late! . . . ' The soul, at the end of this life, will see at last him whom it possessed in the Eucharist; and, at sight of the consolations, the beauties, the riches that it has disregarded, it, too, will cry out: 'O Jesus, my Life, my Treasure, my Love, to think that I should have known you so late! . . . '. "
Divine Savior, while I meditate on the proofs of your Presence under the Eucharistic veils, enlighten my mind, enkindle my heart, and inspire me with that keen and living faith which is already a vision of your eternal beauty.
Jesus Christ is present in the Eucharist with his body, his Blood, his Soul, and his Divinity. Do you want clear and convincing proofs of it?
I. IT IS THE AFFIRMATION OF OUR LORD HIMSELF
Having taken bread in the presence of his Apostles, he said to them: "This is bread; I am going to change it into my Body: this is wine; I am going to change it into my Blood. This Body is truly the Body which shall be crucified, and this Blood is the very Blood that shall be shed for the remission of sins; and each time you pronounce these same words," said he again to his Apostles, "you will work the same miracle, and you will communicate this power one to another to the end of the world."
Jesus Christ is the Truth; his Presence in the Eucharist is then a fact as certain as it is adorable. But "argument is unnecessary to Christians who have so many times tasted the sweetness communicated to them by God in the sacrament of love." O Eucharist, I believe in you; I believe, O Jesus, that "you are in this sacrament as truly as you were for nine months in Mary's womb," as really as "you were on the Cross."
II. IT IS A FACT OF EXPERIENCE
"'Do you believe that a morsel of bread can detach itself all alone and go and place itself unaided on the tongue of one who draws near to receive it?' I asked one day of two Protestant ministers who did not believe in the real Presence of our Lord.—'No.'—'Then it is not bread.'
"This is, indeed, the fact which I witnessed. A man had temptations to doubt the real Presence. 'What does one know about it? It is not certain. The Consecration—what is it? What happens on the altar at that moment?' But he desired to be rid of these temptations, and prayed to the blessed Virgin to help his faith. Now listen to me. I do not say that it happened somewhere ; I say that it happened to me. When that man came to receive Communion, the sacred Host detached itself from my fingers, when I was still at a good distance, and went of itself to rest on that man's tongue." 1
III. IT IS A FACT IN ACCORDANCE WITH REASON
"Our Lord said: Whatever you ask the Father in my name he will give you. We should never have thought of asking God for his own Son. But what man could not have imagined, God has done. What man could not utter nor conceive, and what he could never have dared to desire — that, God in his love has uttered, conceived, and executed. Should we ever have dared suggest to God that he should make his Son die for us, that he should give us his Flesh to eat and his Blood to drink? If all that were not true, then man would have been able to imagine things that God could not do. He would have gone further than God in the inventions of love. . . . That is impossible."
IV. IT IS A FACT ESTABLISHED BY HISTORY
Let us cite only one example: "A priest was saying Mass in a church of the town of Bolsena, and, after pronouncing the words of consecration, doubted the reality of the Body of Jesus Christ in the Sacred Host. At the same instant the sacred Host was all covered with blood. It seemed as though Jesus Christ would reproach his minister for his infidelity, and make him sorry for it, and at the same time show us, by this great miracle, how firmly convinced we ought to be of his holy Presence in the Eucharist. The sacred Host shed blood with such abundance that the corporal, the cloth, and the altar itself were covered with it. The Pope, who was informed of this miracle, ordered that this corporal, all blood-stained, should be brought to him; and, being sent to the town of Orvieto, it was received there with great pomp, and exposed in the church. Every year this precious relic is still carried in procession on the feast of Corpus Christi. Ought not that to confirm our faith? But, my God, what need of proofs have we after the very words of Jesus Christ?"
EXAMPLE
The Curé of Ars had received the gift of faith in eminent perfection. His union with God had rendered revealed truths sensible and palpable to him. What we perceive from a distance, vaguely, confusedly, mysteriously, he saw in itself with a direct and steady gaze.
"We only have a faith a thousand miles away from its object, as if the good God were on the other side on the sea," he used to say. "If we had a living, penetrating faith like the saints, we, like them, should see our Lord. There are priests who see him every day at Mass."
Was it not of himself that the blessed Curé was speaking? We may think so, especially if we remember the following facts:
One day, when he seemed quite sad, the matrons of the Providence asked why he was sad, and he replied, "I have not seen our Lord for several days . . ."
"You see him, then?" they said. But he changed the conversation.
Another day he was taking his meal, standing, in the parlor at the Providence. Believing himself alone, he said with a long sigh, "I have not seen the good God since Sunday." He was heard by Marie Chanay, who, approaching him, asked if he had seen him before. He was silent. 2
May we not infer from this that the Eucharist had no veils for him, and that our Lord showed himself openly to his servant almost habitually?
O blessed Jean-Marie, pray for us and procure us the grace of a living faith in Christ's Presence in the Eucharist.
---

---
Saint Jean-Baptiste Marie Vianney's particular devotion to the Blessed Sacrament is manifest in this book of twenty-seven meditations, which had its first English edition two years before his canonization in 1925.
St. John Vianney is now celebrated as the patron of parish priests.
---