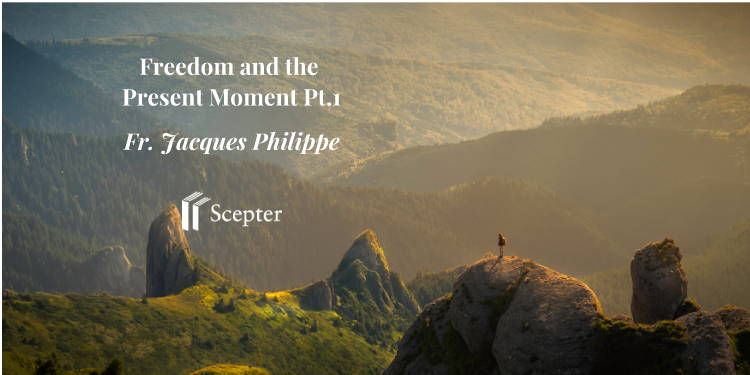 ---
1. Freedom and the Present Moment
One of the essential conditions of interior freedom is the ability to live in the present moment. For one thing, it is only then that we can exercise freedom. We have no hold on the past—we can't change the smallest bit of it. People sometimes try to relive past events considered failures ("I should have done this … should have said that … ") but those imaginary scenarios are merely dreams: it is not possible to backtrack. The only free act we can make in regard to the past is to accept it just as it was and leave it trustingly in God's hands.
We have very little hold on the future either. Despite all our foresight, plans, and promises, it takes very little to change everything completely. We can't program life in advance, but can only receive it moment by moment.
All we have is the present moment. Here is the only place where we can make free acts. Only in the present moment are we truly in contact with reality.
Someone might think it tragic that the present is so fleeting and neither the past nor the future really belongs to us. But, approached from the standpoint of Christian faith and hope, the present moment is rich in grace and holds immense reassurance.
This is where God is present. "I am with you always, to the close of the age." 1 God is the eternal present. Every moment, whatever it brings, is filled with God's presence, rich with the possibility of communion with God. We do not commune with God in the past or the future, but by welcoming each instant as the place where he gives himself to us. We should learn to live in each moment as sufficient to itself for God is there; and if God is there, we lack nothing. We feel we are missing this or that, simply because we are living in the past or in the future instead of dwelling in each second. Psalm 145 says, "The eyes of all look to thee, and thou givest them their food in due season. Thou openest thy hand, thou satisfiest the desire of every living thing." 2
There is something very liberating in this understanding of the grace of the present moment. Even if the whole of our past has been a disaster, even if our future seems like a dead end, nowwe can establish communion with God through an act of faith, trust, and abandonment. God is eternally present, eternally young, eternally new, and our past and future are his. He can forgive everything, purify everything, renew everything. "He will renew you in his love." 3 In the present moment, because of his infinitely merciful love, we always have the possibility of starting again, not impeded by the past, or tormented by the future. The past is in the hands of the Merciful God, who can draw benefit from everything: the future is in the hands of the Providence of God who will never forget us. Faith keeps us from living as many people do, oppressed by a burdensome past and worrisome future. Living in the present permits our hearts to expand.
2. "To Love" Has a Present Tense Only
Treatises on spirituality speak of the stages of the spiritual life. They list three, seven, twelve, or whatever number the particular author prefers. There is much to be learned from these accounts, whether it is the seven mansions of the soul depicted by St. Teresa of Avila or the twelve degrees of humility of the Rule of St. Benedict.
But experience has taught me a different approach. I often say jokingly that the ladder of perfection has only one step: the step we take today. Without concerning ourselves about the past or the future, we can decide to believe today, place all our trust in God today, love God and neighbor today. Whether our good resolutions produce success or failure, next day we can begin again, not relying on our strength but only on God's faithfulness.
This attitude is fundamental in the spiritual life. St. Paul describes it: "Forgetting what lies behind and straining forward to what lies ahead, I press on toward the goal for the prize of the upward call of God in Christ Jesus … Only let us hold true to
what we have attained." 4 It is a basic note of monastic spirituality. St. Anthony of Egypt (the Father of Monasticism, who died at the age of 105 and who, when he was 100, used to say, "I haven't yet begun to be converted!") would repeat St. Paul's words unceasingly. His biographer, St. Athanasius, adds: "He also remembered the words of Elijah: 'The Lord liveth before whom I stand today.' St. Anthony pointed out that when Elijah said 'today' he took no account of the past. And so, as though he were still at the beginning, every day he strove to live as he wished to appear before God: pure of heart and ready to obey God's will and no other." 5 The same attitude has been practiced by all the saints, St. Thérèse of Lisieux being a shining example. She wrote: "To love thee, O Jesus, I have but today." 6
3. We Can Suffer for Only One Moment
This effort to live in the reality of each moment is of the greatest importance in times of suffering. St. Thérèse of Lisieux said during her illness: "I only suffer for one moment. It is because people think about the past and the future that they become discouraged and despair." 7 Nobody has the capacity to suffer for ten or twenty years; but we have the grace to bear today the suffering that is ours now. Projecting things into the future crushes us—not experiencing suffering but anticipating it.
… Reality is something one shoulders together with all the suffering that goes with it … But the idea of suffering (which is not the reality, for real suffering is always fruitful and can turn life into a precious thing) must be destroyed. And if you destroy the ideas behind which life lies imprisoned as behind bars, then you liberate your true life, its real mainsprings, and you will also have the strength to bear real suffering, your own and the world's. 8
4. "Let the Day's Own Trouble Be Sufficient for the Day"
One of the wisest sayings in the Gospel is "Let the day's own trouble be sufficient for the day." 9 Let us absorb this lesson Jesus teaches. We often complain about how much we are suffering, without realizing that it's our fault. As if today's suffering weren't enough, we add regrets about the past and worries for the future! It's no surprise we feel overwhelmed. For life to be bearable, we must practice bearing today's problems only.
The past casts its shadow over the present whenever we brood about old failures and yesterday's choices. Of course we should ask God's forgiveness for our faults and should learn from them where appropriate. But once we've said we're sorry and meant it, that is enough. While seeking to make amends where possible for the harm we have caused, most of the time we should simply leave things in God's hands, trusting him to put everything right. We must put a stop to attitudes or thoughts that keep us from living trustingly in the present moment.
Sometimes we feel we've wasted much time and missed all too many opportunities to love and grow. If the feeling leads to real repentance and to starting again courageously and trustingly, then it is something positive. But if the sense of time wasted gets us down and makes us feel we have ruined our lives, we must reject it. To lock ourselves in the past would only add another sin to those already committed. It would be a serious lack of trust in the infinite mercy and power of God, who loves us and wants always to offer us a new chance to become holy, despite the past. When the thought of how little progress we've made threatens to overwhelm us, we must make an act of faith and hope, such as: "Thank you, my God, for all my past. I firmly believe that you can draw good out of everything I have lived through. I want to have no regrets, and I resolve today to begin from zero, with exactly the same trust as if all my past history were made up of nothing but faithfulness and holiness." Nothing could please God more than that!
---

---
Father Jacques Philippe was born on March 12, 1947, in Lorraine, France. After studying mathematics in college he spent several years teaching and doing scientific research. He joined the catholic com-munity of the beatitudes and became the first priest to be ordained in April 1985. Father Jacques spent his first years as a community member in Jerusalem and Nazareth. With over half of a million of his books sold on topics such as: prayer, interior freedom, and peace of heart; his writings have be-come classics of modern catholic spirituality . He preaches retreats regularly in France, Italy, Spain, and the USA. He has consolidated his main retreat themes into seven books on spirituality. Currently, his time is now mostly devoted to prayer, writing and touring worldwide. His preaching genuinely helps people to pray, find hope and peace. When fr. Jacques is not on mission, he resides in a hermitage in France where he writes books.
---
---