---
In this book, without theological pretensions or any particular exegesis, I propose a meditation on the Beatitudes found in Matthew's Gospel, and particularly on the first of them, poorness of spirit: Blessed are the poor in spirit, for theirs is the kingdom of heaven. A lot has been written on this topic, but it's such an important subject for the life of the Church, that coming back to it is always necessary. Pope Francis ceaselessly exhorts Christians to live the Beatitudes, the only way of true happiness, and also the only way to reconstruct society.
Today's world is sick with pride, with insatiable desire for riches and domination, and can't be healed except by accepting this message. To be faithful to the mission that Christ entrusted the Church, to be "salt of the earth" and "light of the world" (Mt 5:13-14 [Translator's note: French copy says Mt 6:13-14, but it's verse Mt 5:13-14 in RSV, appears it may be a typo in the French version]), the Church must be poor, humble, meek and merciful... There's a strong call today to hear this essential teaching of Jesus which we may not have truly understood or put into practice. The more the Church progresses through history the more it must radiate the spirit of the Beatitudes, giving off "the aroma of Christ" (2 Cor 2:15). The Holy Spirit wants to act forcefully in this direction, even if it
sometimes stirs up its Church. Every Christian must give off the perfume of the Gospel, an aroma of peace and meekness, of joy and humility.
I am more and more convinced that poorness of spirit is the key to spiritual life, and the key to any path towards saintliness and fruitfulness. The Beatitudes contain liberating and enlightening wisdom. And yet, they're one of the parts of the Gospel that we have the most difficulty understanding and putting into practice. Even in the Christian realm we have a tendency to think in terms of riches, quantity, or measurable efficiencies too much, but the Gospel invites us to adopt a very different attitude.
A Holistic View of this Gospel
Before taking a look at each of the Beatitudes one by one, I'd like to make some reflections on them as a whole.
This Gospel passage isn't easy to understand. It is paradoxical – even shocking (when I was a young priest it was difficult for me to preach on the Beatitudes!) – but little by little we come to realize that it's an extraordinary text, one that encompasses all the novelty of the Gospel, all its wisdom and the power that it contains for profoundly transforming the hearts of men and renewing the world.
We must, of course, read Jesus' words in their context. The Beatitudes passage is situated after Matthew's verses that describe the crowds coming from everywhere to listen to Jesus:
And he went about all Galilee, teaching in their synagogues and preaching the gospel of the kingdom and healing every disease and every infirmity among the people. So his fame spread throughout all Syria, and they brought him all the sick, those afflicted with various diseases and pains, demoniacs, epileptics, and paralytics, and he healed them. And great crowds followed him from Galilee and the Decapolis and Jerusalem and Judea and from beyond the Jordan (Mt 4: 23-25).
It's in seeing the crowds that Jesus climbs the mountain, sits down, lets his disciples approach him and begins to teach by proclaiming the Beatitudes.
The crowds that gather around Jesus are thirsty for healing, for light, for happiness. He responds to this thirst; he gives these suffering people a magnificent promise of happiness, repeated nine times, but in language that's very different from what we might expect. What he proposes isn't a human happiness, the image of happiness that we are accustomed to, but an unexpected happiness, encountered in situations and attitudes that are not normally attached to the idea of happiness. A happiness that is not a human production but a "surprise from God," accorded precisely at the time and place where we thought it was impossible...
We also notice that Jesus' first words after the Beatitudes are those where, through the image of salt and light, he evokes the singular grace that rests on his disciples and that they must be faithful to:
You are the salt of the earth; but if salt has lost its taste, how shall its saltness be restored? It is no longer good for anything except to be thrown out and trodden under foot by men. You are the light of the world. A city set on a hill cannot be hid. Nor do men light a lamp and put it under a bushel, but on a stand, and it gives light to all in the house. Let your light so shine before men, that they may see your good works and give glory to your Father who is in heaven.
Jesus is quite aware of his disciples' human limits and their failings, which the Gospel stories do nothing to hide, quite to the contrary, actually. But he doesn't hesitate to affirm that, without the witness of their lives, human existence wouldn't have any appeal or make sense, and the world would fall into deep darkness. It's clear that it's precisely in living the Beatitudes that they can fulfill this vocation of service to the world. Only the Gospel of the Beatitudes gives human existence all its meaning and truth.
In Matthew's Gospel the Beatitudes form the introduction to the Sermon on the Mount, which is covered in chapters 5 to 7. This first big discourse of Jesus' presents him as the new Moses who proclaims the new covenant of the Kingdom. Not from the heights of Mount Sinai, smoking and quaking, in thunderbolts, lightening and a thick cloud, but on a little hill on the banks of the Sea of Galilee, as tradition says. Still, it doesn't stop Jesus from speaking with force and authority, an authority that surprised the crowd, because it contrasted with the way that the rabbis of the day taught. The expression: "You have heard that it was said... But me, I say to you..." is used several times in Jesus' words, Jesus who, nonetheless, insisted that he didn't come to "abolish the law or the prophets but to fulfill them" (Mt 5:17).
In concluding the Sermon on the Mount, the parable of two houses, one built on rock and the other on sand, is a vibrant exhortation not to be content with this New Covenant and to say "Lord, Lord," but to put it in practice, thus doing the will of the Father who is in heaven.
It's essential to understand that this New Covenant Jesus promulgates on the mount of the Beatitudes isn't just a moral law, even if it obviously has strong implications for the domain of human behavior. It is, even more deeply than a code of conduct, however exalted such code may be, a path towards the happiness of the Kingdom, an itinerary for union with God and personal interior renewal. It proposes an itinerary of identification with Christ, of discovery of the Father, of openness to the Holy Spirit. Only the Spirit is able to give us true understanding of the Beatitudes, and only the Spirit allows us apply them in our lives.
1 Mt 5:1-12.
2 Ex 19:16.
3 Mt 7:21, 24-27.
---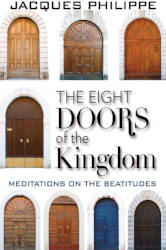 ---
Father Jacques Philippe was born on March 12, 1947, in Lorraine, France. After studying mathematics in college he spent several years teaching and doing scientific research. He joined the catholic com-munity of the beatitudes and became the first priest to be ordained in April 1985. Father Jacques spent his first years as a community member in Jerusalem and Nazareth. With over half of a million of his books sold on topics such as: prayer, interior freedom, and peace of heart; his writings have be-come classics of modern catholic spirituality. He preaches retreats regularly in France, Italy, Spain, and the USA. He has consolidated his main retreat themes into seven books on spirituality. Currently, his time is now mostly devoted to prayer, writing and touring worldwide. His preaching genuinely helps people to pray, find hope and peace. When fr. Jacques is not on mission, he resides in a hermitage in France where he writes books.