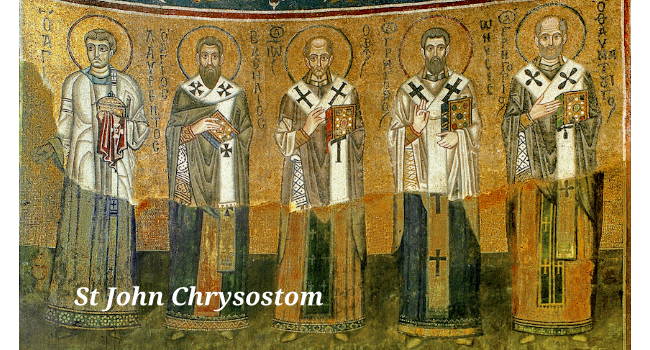 By St John Chrysostom
This short praise was taken from the book Glimpses of the Church Fathers and it is part of St John's Homily 4 at the council of Ephesus
---
I see the joyful assembly of the holy ones who have eagerly come together, called by Mary, the holy and ever-virgin Mother of God. Although I was laboring under much grief, the presence of the holy fathers has transformed this into joy. Now the sweet words of the psalmist David have been fulfilled for us: "How Good, how delightful it is when brothers live in harmony!" (PS 132:1).
We Greet you therefore, holy and mystical Trinity, who have gathered us all together in this church of Mary, the Mother of God. We greet you Mary, Mother of God, venerable treasure of the whole world, inextinguishable lamp, crown of virginity, scepter of orthodoxy, indestructible temple... mother and virgin...
We greet you, who held in your holy, virginal womb, the one who cannot be contained. Because of you, the Trinity is worshiped and adored. Because of you the cross is venerated and adored throughout the whole world. Because of you heaven rejoices, the angles and archangels delight and demons are put to flight. Because of you, the devil, the tempter, has fallen from heaven, and fallen creation is taken up to heaven...
What more needs be said? Because of you, the Only-Begotten Son of God has shone as a light on those who sit in darkness and in the shadow of death (cf Luke 1:79). Because of you the dead are raised and kings rule through the grace of the Holy Trinity.
Who can sing adequately the praise of Mary? She is both virgin and mother... Behold now, the universe rejoices. Let us tremble and worship the undivided Trinity. Let us praise the ever-virgin Mary...
---
---
Glimpses of the Church Fathers:
In recent years there has been a growing awareness among lay people of the importance of Tradition within the Catholic Church. A primary source of this Tradition is the collection of what the Fathers of the Church had to say in Her early history. This selection of writings covers a wide range of topics, and is presented in easily readable units.